At the end of the day, the reason we're here is to make a meaningful difference in the lives of the young women and men in our care and help them build better futures, anywhere in the world."
A WARM WELCOME


'Confident futures' is more than a tag line for the students and staff of The Hamilton and Alexandra College. We proudly strive to seek the best for and from every student, and to prepare them to make a meaningful contribution to the world.
We are known for our sense of community and connectedness. What sets us apart is our beautiful regional setting with everything city schools have to offer – a wide range of opportunities, unique programs, world-class facilities and a range of boarding options.
Our children will live in a world of 15 billion people. They will need the ability to question, make connections and take an innovative and creative approach to problem solving. To best prepare them for their world of tomorrow, we need to provide them with opportunities today to think laterally and imaginatively and offer subjects that enable them to find novel and valuable solutions.
At College, through our structured curricular and co-curricular learning programs and our relentless focus on wellbeing, we are arming our students with the skills and attributes that will help them succeed.
We are lighting the fire of curiosity, imagination and goodness and preparing them to step into their future with confidence and enthusiasm.
We will measure our success by how our young women and men serve their community now, and throughout their lives.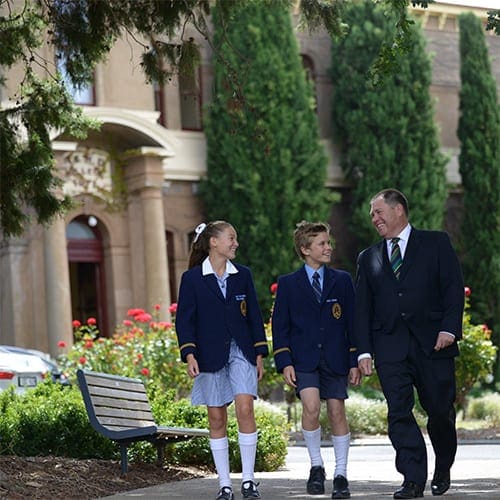 Our Principal
Dr Andrew Hirst
Dr Hirst's educational philosophy is driven by his passion for what youth can achieve and his belief in a truly holistic education – that is, aspiring to develop young men and women who have outstanding depth of character, strong intellect, are willing to be themselves at their best and who will proudly serve others now and into the future.
Principal since January 2016, Dr Hirst has a Doctor of Philosophy in Education and a Bachelor of Arts (Honours) from the University of Sydney, and has significant skills and experience in strategic plan implementation, governance, team development, leadership and community engagement. His previous roles include Deputy Headmaster at Newington College in Sydney and Director of Boarding at the Kinross Wolaroi School in Orange. Dr Hirst teaches Modern History and is a strong supporter of the performing arts, sport, debating and outdoor education.