The Hamilton and Alexandra College is a co-educational day and boarding school located in Hamilton, Victoria, Australia. We are extremely proud of our strong history and traditional values and equally proud of our outstanding facilities and innovative educational programs.
PROTECTING OUR FUTURE
We are committed to remaining at the forefront of education. To achieve this, we rely on fundraising so we can continuously maintain, update and expand our facilities and programs. The Hamilton and Alexandra College Foundation, established in 1992, aims to seek philanthropic support for the College's ongoing development and to secure the College's financial independence.
JOIN THE 150 CLUB
In 2022, the school's sesquicentenary year, the College Foundation is proud to launch the 150 Club. Funds raised through this philanthropic group will be dedicated to supporting students who could not otherwise afford to attend College. It's a bold initiative but one which our school stands proud to support.
Our well-rounded, authentic and connected students leave school ready to succeed in their confident future. Let's work together, through our new '150 Club', to provide this opportunity for more aspiring boys and girls from regional Australia.
Tower Scholarships
For many families, the cost of an independent education prevents their child from attending this amazing school.
Our equity scholarships are designed to support families that prioritise the benefit of receiving a quality education but require financial assistance to make this dream a reality.
These will be known as 'Tower Scholarships' so named after our iconic Tower building on our Chaucer campus where the first classes were held over 150 years ago.
We truly do seek the best for and from every student at College and we want all students to be known, valued and challenged. Tower Scholarships enable College to have a diverse mix of students from different backgrounds, skill sets, interests and personalities. This helps children prepare for life after school.
You are invited to make a difference
Each Tower Scholarship contributes to six years of education from Year 7 to Year 12, at $90,000 per scholarship.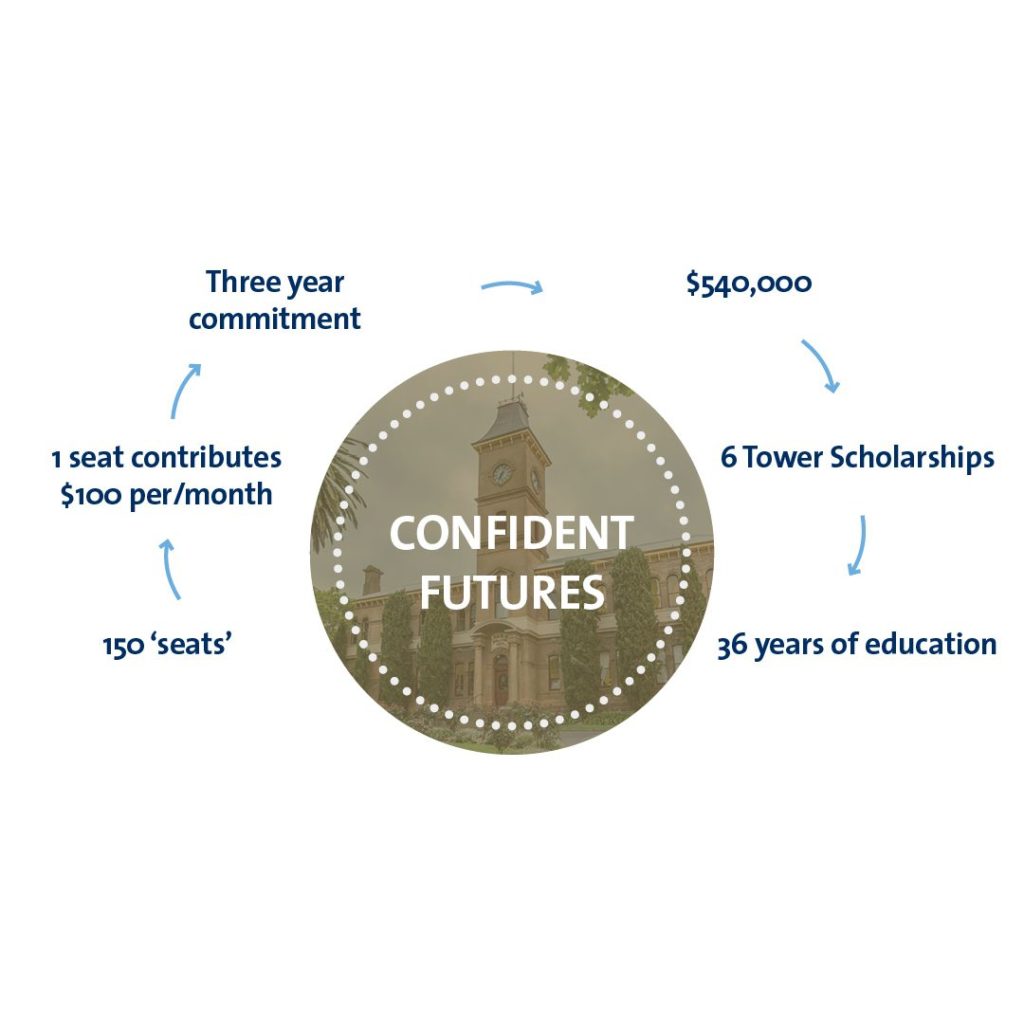 Become a 150 Club Member
Members of the 150 Club are invited to fund a minimum of one 'seat' at an investment of $100 per month for 36 months. Members are welcome to contribute annually or monthly. All donations made to the 150 Club, in support of equity scholarships, are tax deductible
Annual Donation
To make an annual donation of $1,200, please click this button.
Monthly Donation
To begin making monthly direct debits of $100, please click this button to download the direct debit form. Completed forms may be scanned and emailed to abrown@hamiltoncollege.vic.edu.au or mail / deliver it to The Hamilton and Alexandra College, Chaucer Street, Hamilton Victoria 3300.
Annual Giving
This program provides the opportunity for every member of the College community to make an annual gift to the College with no ongoing commitment. Your gift can be any amount and is tax deductible. Annual Giving is used for a specific purpose each year and has an immediate benefit to students.
Capital Campaigns
Our Capital Campaigns (or building programs) seek to raise funds by attracting key gifts for specific large scale or building projects. Your gift can be pledged over several years or as a single gift.
Scholarship Fund
Your gift will give financial assistance to a student who could not otherwise benefit from a College education. The value and duration of each scholarship varies according to the situation.
Bequests
The Chaucer Society (formed in 2001) acknowledges and honours those who remember the College in their will and membership is open to any person who makes a bequest to the school. A bequest might comprise a share of an estate, cash, items of personal property or real estate. Your bequest is extremely important for the future of the College.
CONFIDENT FUTURES PROJECT
'Knowledge and Wisdom' has been the College motto since 1872. The new demands of the twenty first century, however, insist that we must also teach students 'to learn how to learn' if they are to successfully embrace the challenges that lie ahead. We measure our success by the 'Confident Futures' of our students.
In 2022, our 150th year of providing quality education, we proudly launched the Confident Futures Project.
Everyone is Welcome
The Confident Futures Project is open to all. We invite participation without expectation. We wish to develop a great tradition and culture of giving, building upon the shoulders of many who have given so generously over our first 150 years. Together our College Staff, the College Board, the College Foundation, the Parents' and Friends' Association and the Old Collegians' Association have joined forces to unify our support for this one project that binds our entire community together.
MORE INFORMATION
All giving programs are managed by the College Foundation. For more information on any of our giving programs, please contact:
THE IVY & THE TOWER
Take a look at our latest Alumni Magazine and meet our new Foundation President on page 7