Our boarders not only have the opportunity to produce great academic outcomes, they 'learn life'.
Students come from regional, rural and metropolitan areas, as well as overseas to access this amazing learning community. With a wide range of curricular and co-curricular programs and world-class facilities, our students' opportunities include the same as their city peers but going beyond with programs such as aviation and equestrian, all with fresh air, space and a safe and nurturing learning environment.
YEAR 7 & 8 FULL BOARDING BURSARIES
Applications are now open for Year 7 and 8 Boarding Bursaries for 2021, 2022 and 2023.
This bursary is a 100% reduction off boarding fees for one year.
These Year 7 and 8 Boarding Bursaries are open to both new and current College families. The bursary does not cover textbooks, uniforms, excursions, technology fees, individual subject fees or tuition fees.
To register your interest, or to request a formal application, please fill out the adjacent form.
Conditions apply:
This bursary is available to all Year 7 boarding students for one year.
For Year 8 students, this bursary is applicable for one year if you live more than 100km from Hamilton, Victoria 3300.
All students (Year 7 and 8) that receive this bursary are required to remain boarding at The Hamilton and Alexandra College through to the end of Year 12. If you leave before this time, you will be obligated to pay this bursary back in full.
Families are welcome to apply for Boarding Scholarships when their children are in Years 9-12.
For more information please contact:
Registrar – Mrs Susie Holcombe
T: 03 5572 1355
E: admissions@hamiltoncollege.vic.edu.au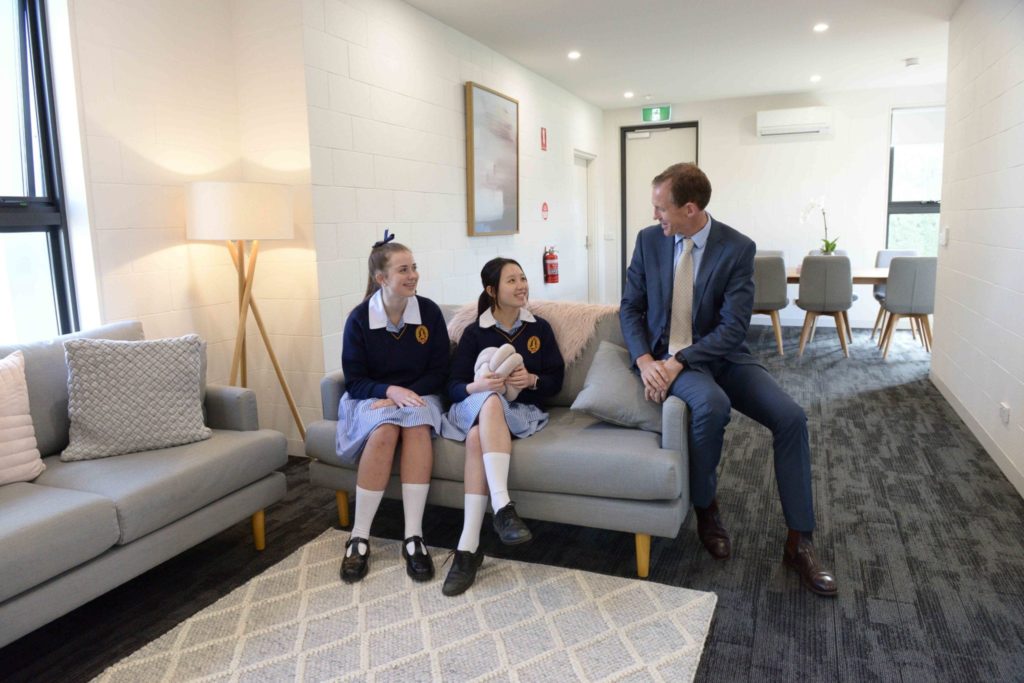 A VIRTUAL TOUR WITH OUR DIRECTOR OF BOARDING
If you would like to book a personal virtual tour of the Boarding House with our Director of Boarding, Mr Andrew Monk, please select email or use admissions@hamiltoncollege.vic.edu.au
OPPORTUNITY
Our boarding houses are set among the beautiful lawns and rambling gardens of the heritage-listed Myrniong Homestead Campus. Boarders come from a wide range of destinations in rural and regional Australia, Metropolitan and overseas. They have a wonderful opportunity to make the most of the wide range of co-curricular activities on offer at the school both during the day and after hours.
CASUAL BOARDING
Your child can stay in the Boarding House for short stay for a definite purpose, such as rehearsals out of school hours or early morning rowing training. They can also get help with their homework from a member of the academic staff after school. You can have peace of mind knowing your child is being cared for in a safe, supportive and familiar environment. Click here for more information.
SUPPORT & CARE
Dedicated boarding trained staff care for the boarders and contribute to their academic, social, co-curricular and pastoral care. Academic staff members supervise study sessions during the week so boarders can get help when they are doing their homework. The College nurse is available to care for boarders when they are unwell. Trained chefs prepare quality meals and cater for individual dietary needs. Breakfast and dinner are served in the refectory on-site and a cut lunch is provided each day, allowing boarders to integrate with the day students at the Senior Campus throughout the day.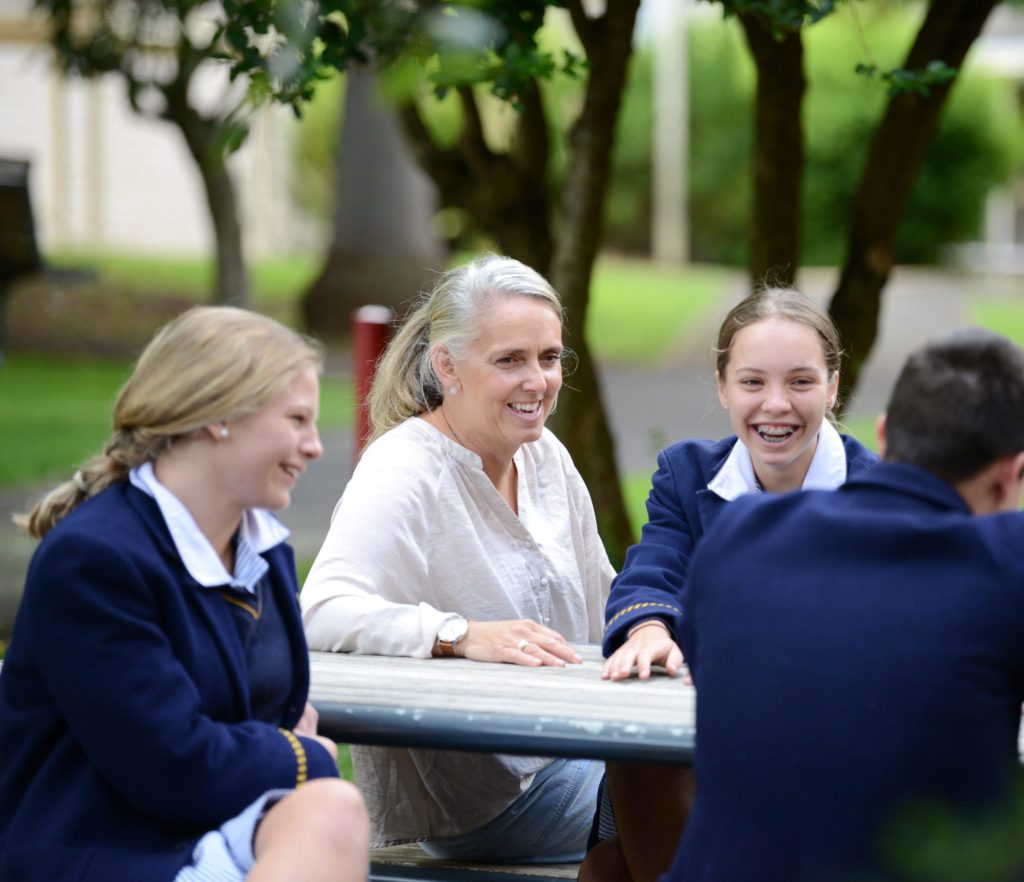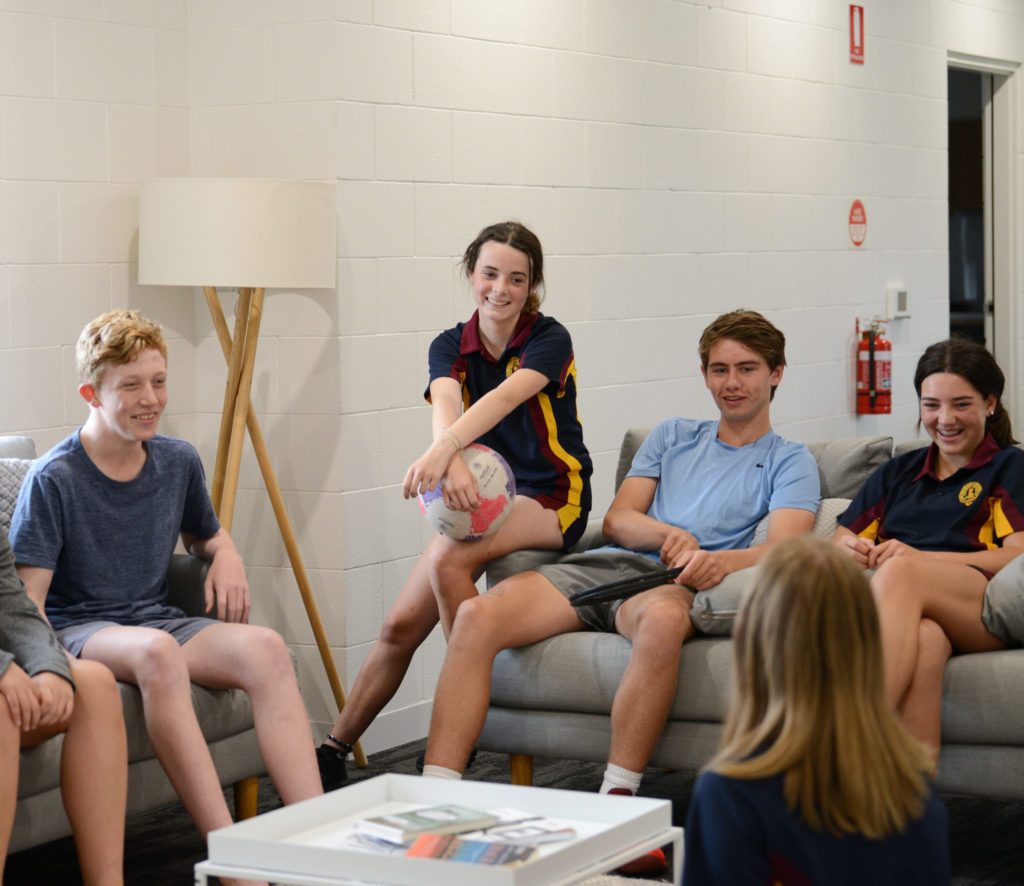 A typical boarding day
Download our daily schedule
2021 Term 1 activities
Download our timetable of activities
WEEKLY LIFE SKILLS PROGRAM
The lifeskills program is an opportunity for our House Mothers to engage our Year 7 and 8 boarders with the everyday life lessons learnt at home. House Mother Lise Lowe is an experienced life educator who has children of her own, now young adults leading successful lives. For an overview of topics and activities our young boarders engage in please click on the panels below.
Scheduling
Reinforce the importance of schedules and routines. Set up whiteboards and prompts. Reminder on how to use record books effectively.
Hot chocolate treat night
Games Week
Board games/puzzles. To promote collaboration, inquiry and critical thinking.
WEEK 3 Budgeting & Finance
Budgeting and Finances
Learn basic money skills. Use these tools to go shopping for our 'Chocolate Mug Cakes' treat night.



Entertainment week
Share your favourite YouTube clips, jokes and finish the week with a movie night with popcorn and choc-tops
Cleaning Week
Ourselves, laundry, shoes, dishes and practising our ironing skills.
Communication
Create 'open when' letters for the future. Record our past, our present and our hopes. In term 4 we will build on this creating a time capsule of memories from this year of boarding.


Eating Out
Planning our dinner for the term – where will we have it, what will we have, decorations, manners, behaviour expectations, suitable attire.





Healthy Bodies
Diet, exercise and mindfulness. Guest presenters. Mini sports tournament and some Zumbo.






Whole Boarding House Quiz
Organise a Kahoot and prizes, get to know our fellow boarders.





Self care week
Be kind to ourselves and each other
TAKE A TOUR OF OUR SCHOOL
FEATURES
Located on the Myrniong Campus
On-site heritage-listed Myrniong Homestead
14 hectares of beautiful grounds and gardens
On-site extensive playing fields
On-site oval and floodlit multi-purpose courts
Quiet location in Hamilton
Walking distance to a wide range of community sporting facilities
On-site College Equestrian Centre (boarders can agist a horse here)
Public golf course next door
AGE-APPROPRIATE ACCOMMODATION
Accommodation for up to 150 boarders
2 main boarding houses for boarders from Years 7 to 12 (Macdonald House for girls and Speirs House for boys)
A number of smaller units accommodating up to 8 senior boarders
House Mothers care for all junior boarders
Twin-share accommodation with a single room in Year 12
Access to wifi and the school's central network
Common rooms in each boarding house providing the perfect space for boarders to relax
Central common room with recreational games
A common dining area (the Refectory)