Introducing our new Years 7 Curriculum
Transition into Year 7 is a pivotal moment in every child's learning journey as they stamp a new page in their P-12 educational passport. Similarly, creating 'confident futures' demands agility, adaptability and innovation. The ENGAGE program provides opportunity for personalised learning and students' first exposure to how academic accomplishment is matched with connectedness to life. We emphasise the importance of partnership between student and teacher while gently exposing Year 7 students to their first taste of independent learning.
ENGAGE
Engage is an exciting introduction to our Middle Years program at The Hamilton and Alexandra College. It allows our year 7 students to transition from Primary School into the Secondary School environment and consolidate routines for effective learning whilst building character and knowledge.
The Engage program aims to consolidate student knowledge in the core curriculum and offers students the opportunity to explore a new language, the creative and performing arts and engage in an innovate Digital technology program.
In the Middle Years students are encouraged to develop a growth mindset, to be curious and committed to becoming independent learners through the application and mastery of new skills and experiences. We want our students to be confident, collaborative, and considerate young people, who are aware of their responsibility to both local and global issues.
Year 7 is an important year of transition, of skill building, of learning how to learn and to meet the challenge of establishing a new set of relationships with students who are beginning their secondary school learning journey.
Introducing our
Years 8 & 9 Curriculum

The Year 8 & 9 Explore Program is designed to cater for the changing developmental needs of middle adolescence while preparing them for the challenges of lifelong learning. The Explore program provides the opportunity to experience a wide range of subjects over two years to expand each student's horizon and provide a unique learning experience of challenge choice and balance. Our teaching practices enable students to develop an understanding of their capabilities and passions, while developing their skills and persistence.
EXPLORE
Explore is an exciting new Middle Years program that allows our year 8 and 9 students to consolidate their learning whilst having more choice and freedom to investigate a range of learning areas that build character and knowledge.
The Explore program aims to offer breadth, ignite passion, and develop skills as students explore new subjects. Students study a core curriculum and in addition choose semester length elective pathway units. At year 8 students can choose four elective pathway units and in year 9 students choose six of these units.
In the Middle Years students are encouraged to develop a growth mindset, to be curious and committed to becoming independent learners through the application and mastery of new skills and experiences. We want our students be confident, collaborative, and considerate young people, who are aware of their responsibility to both local and global issues.
Explore offers a blend of practical, vocation orientated pathway subjects, as well as the opportunity to explore the Visual and Performing Arts, Technology, Sport & Outdoor Education, Agriculture, Equine, Literature and Business Management. Students have an opportunity to select subjects that challenge and extend their skills and capabilities via a Research Project Elective or an Online Courses. But equally, there is provision in the program for students to gain further support with their learning.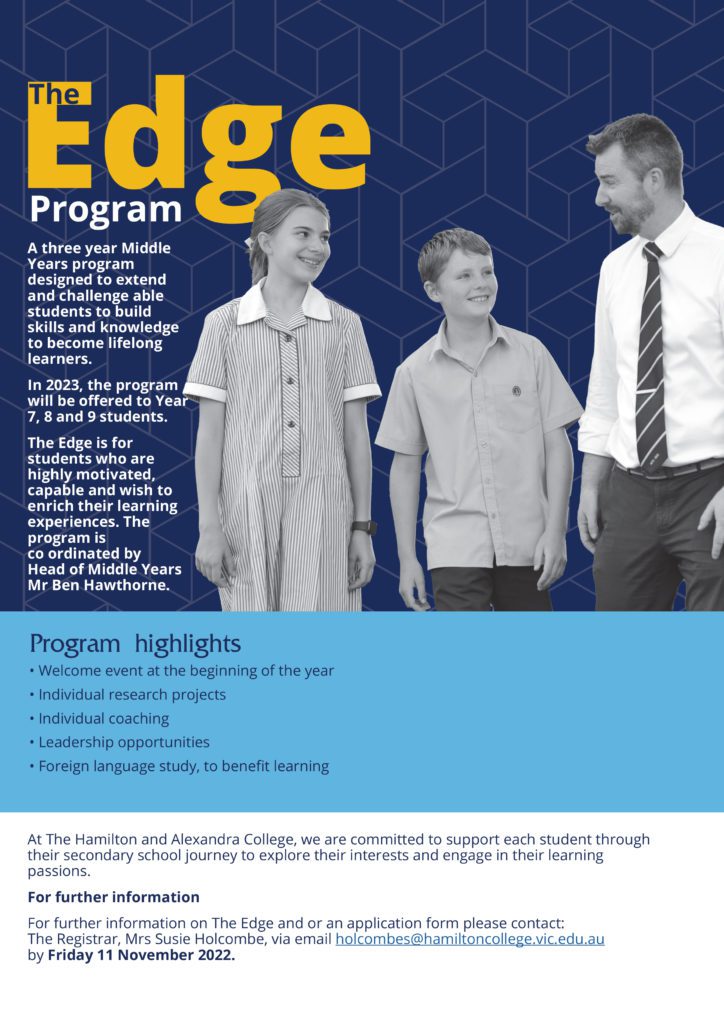 The Edge Program
The Edge is a three-year program designed to extend and challenge able students to build the skills and knowledge required to become lifelong learners.
The Edge promotes bespoke programs for students that demonstrate high academic achievement and social and emotional intelligence.
Students are encouraged to extend their literacy and numeracy skills alongside the core curriculum, as well as develop the skills of collaboration, creative thinking, problem solving and communication. High challenges and failure will be experienced throughout the program.
The Edge program is offered to Year 7, 8 and 9 students by application with a comprehensive selection process will be conducted in Term Four to identify high potential students.
It is an expectation that students participating in The Edge are also involved in all aspects of college life. Our Co-Curricular program includes a range of Summer and Winter sports, an Outdoor Education program, an extensive instrumental music/choral program, and a dramatic arts program. Students also have an opportunity to participate in the Duke of Edinburgh program.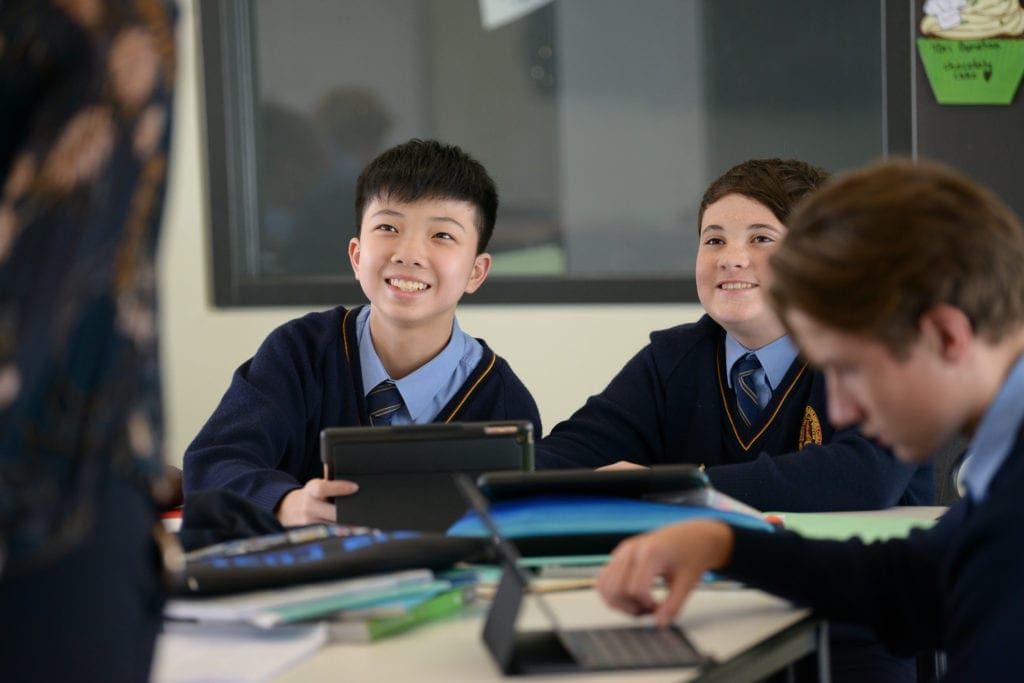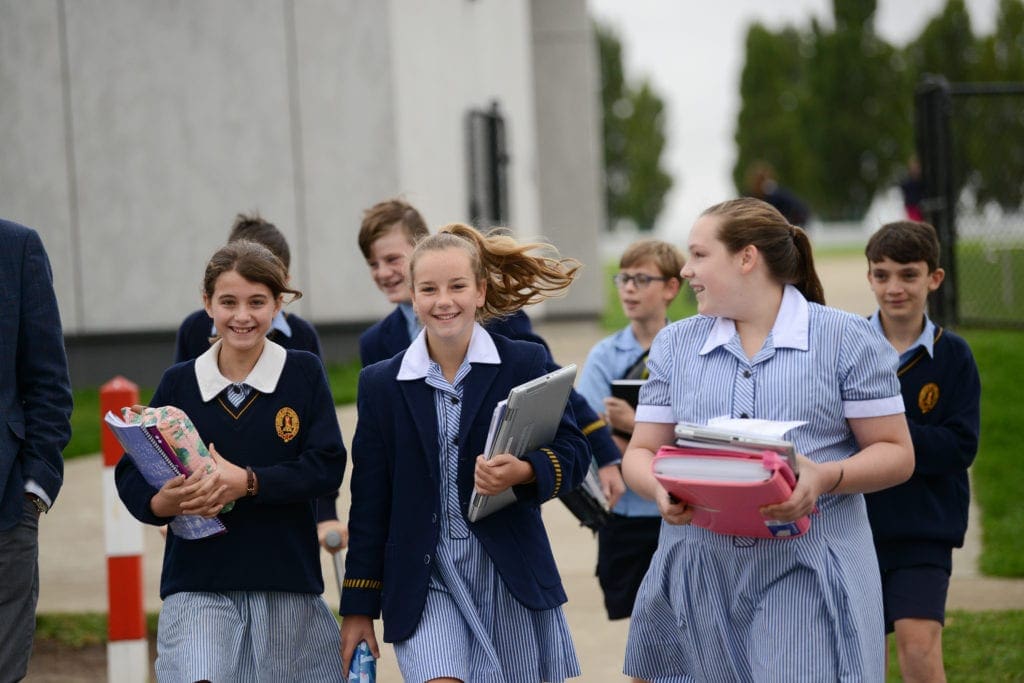 Learning Structure
The College curriculum marks a significant change in our approach to teaching and learning. Learning should be transformational; it should be continuous and develop the whole person. Each student's learning program is unique, and it is designed to give them agency and the opportunity to direct their own learning pathway. As a student moves through the school, the College curriculum is designed to enable each student to engage in foundational literacies, explore a broad range of subject interests and emerge from the VCE with the skills, knowledge and character that will equip them for the future. Learning Ecosystem: Three Entry Points
Our connected community at The Hamilton and Alexandra College ensures students are empowered to achieve their best. Students have three entry points for learning program:
• Engage Program (Transition) Year 7
• Explore Program (Breadth) Year 8-9
•Emerge Program (Depth) Year 10-12
The Middle Years program (7-9) is underpinned by our school commitment to positive education and the importance of character development and wellbeing. Year 7 students are supported as they transition to the college and engage in a program that lays the foundation of lifelong learning. Students are offered guidance as they engage in a curriculum that gives them choice and balance of a range of innovative subjects. In years 8 and 9, students start to explore a breadth of curriculum offerings. The Deputy Principal Teaching and Learning, Head of Middle Years, and the mentor team all work to assist students in selecting a broad course that will enable them to identify their strengths and areas of interest.
The Senior Years (10-12) offers students access to an academic curriculum program that allows depth and rigour in all areas of chosen study. Students emerge with strong foundations and a clear learning pathway. We seek the best for and from every student, and our emerge program celebrates this. From years 10-12, students are on a VCE pathway and create a program that allows them to achieve real depth in their learning. Students begin to specialise at year 10, whilst exploring some options for their final two years of school. Prerequisite subjects prepare students for a diverse future of further study, work, and travel. Our students are guided by mentors, careers counsellors and our curriculum experts to make informed choices about the best learning program at college. An important part of Emerge is the allocation of flexible learning time in a year 10 student's program to allow them freedom to access learning support, individual study, coaching and Master Classes. Students are also offered individual career counselling; they participate in the Morrisby Testing and a work experience program. Our students emerge as mindful, and creative young men and women who have been enabled to work independently towards a confident future. From year 10, students have options to complement their school based academic program with VETDDS programs in Applied Language, Hospitality, Equine, Health and Agriculture. Furthermore, an extensive co-curricular program allows students to experience the best of our local context, whilst making connections with learning opportunities at a state, national and global level.